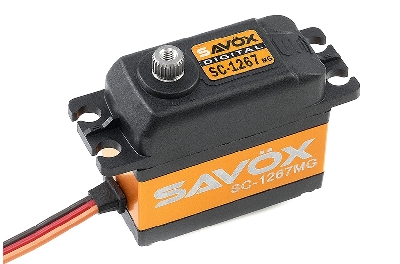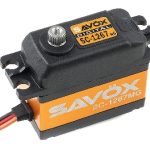 Savox SC-1267SG Digital High Voltage Servo
€79,90
Beschrijving
This is the Savox SC-1267SG Super Speed Steel Gear Digital Servo (High Voltage).
– Combines leading edge technology with super high 12 bit (4096) resolution.
– Higher performance due to increased voltage and improved technology
– Incredible torque
– Increased transit speed
– Increased efficiency
– Water resistant with 4 silicon seals implanted
– Strong and precise-made steel gears
– Suitable for 1/8th nitro racing and large scale aircraft
– Suitable for 600 and 700 class helicopter 1/8th scale buggies, truggy, and crawlers.
Technische gegevens:
Dimension : Weight 62 gr
Dimension : Height 37.2 mm
Dimension : Length 40.3 mm
Dimension : width 20.0 mm
Speed 0.095 sec / 60° @ 7,4v
Torque 21.0 kg- cm @ 7,4v
Type of case Aluminium & plastic
Type of gears Steel gears
Type of motor Coreless motor
Type of servo Digital High voltage servo
Type of spine 25 tooth spine